250 Million Years In The Making
Our two Himalayan Salt Caves create a surreal environment to relax, recharge, and rejuvenate both body and mind. The cave walls and ceilings are made of 45 tons of backlit Jurassic-Age salt blocks and crystals, while the floor is covered with crushed salt. This ancient sea salt is laden with minerals, including magnesium, calcium, sodium, and potassium, all of which play a key role in our body's health, function, and cellular communication. Visitors to our beautiful salt caves can relax in comfortable zero-gravity lounge chairs, or lie directly in the salt.
Salt Caves & Your Health
The air in the caves is infused with micro-salt particles that impart a therapeutic benefit when inhaled. Halotherapy, simply breathing in air saturated with salt particles, is known to be a natural and effective way to improve respiratory health. The healing atmosphere accompanied by soothing music is a natural way to enhance overall physical and mental health.
Traditional Therapeutic Salt Use
Historic records indicate that humans have long been using natural salt caves and mineral baths as places of healing and rejuvenation. In modern times, science has shown the health benefits of feeding your body pure and natural ingredients. Salt is known to have a vital biochemical role in our bodies for energy and cellular health.
Activities In Our Himalayan Salt Caves:
Walk In Sessions
Our Himalayan Salt Caves are available on the hour, every hour, during regular business hours for 45-minutes of rejuvenation and relaxation.
Cave Massages
Choose from Swedish, Deep Tissue, Couples or Maternity. Our massage therapists will ensure you are completely restored and relaxed, whether you are feeling stressed or are looking for relief from those nagging aches and pains.
Salt CBD Hemp Oil Cream Add On
Saltsational Swedish
Salt Swedish/Deep Combo
Himalayan Deep Tissue:
Scrub & Massage
Maternity Massage
Crystal Cave Couples Massage
Swedish-Deep 60 min
Deep Tissue
PACKAGES:
Swedish Massage/Mineral Facial Package
Deep Tissue Massage / Mineral Facial Package
Go with the Glow
Bachelorette Spa Packages Santa Barbara
A Very Unique Space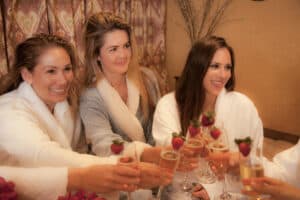 Host your Bachelorette in the Largest Himalayan Salt Cave in North America! Meetings and special events transcend the norm within the superior event spaces at Santa Barbara's SALT Cave. Below the bustling sidewalks of State Street, lies 45 tons of 250 million year-old Himalayan Crystal Salt, creating the perfect backdrop for any event.